Regular price
Sale price
$14.61 USD
Unit price
per
Sale
Sold out
Brand: Sewak Al-Falah
Age Range: All
Firmness Description: Medium
Color: Brown
Discover the Natural Way to a Healthier Smile!
Natural Teeth Cleaning: Sewak Al-Falah Miswak sticks are crafted from 100% organic twigs, offering a natural and effective method to cleanse your teeth and enhance your oral hygiene. These natural tooth sticks are renowned for their bacteria-fighting and plaque-busting qualities, leaving your mouth feeling revitalized and truly clean.
Whiten Teeth: Regular use of Miswak can help eliminate surface stains, naturally brightening your teeth. The inherent abrasive properties of these sticks gently remove stains caused by coffee, tea, and other foods, revealing teeth that are both brighter and healthier.
Convenient 6 Miswak & 6 Holders: Each package includes a Miswak stick and a holder, making it practical for on-the-go use. This listing offers a total of 6 packs. The holders maintain the stick's cleanliness and hygiene, permitting multiple uses before replacement.
How to Use: Begin by peeling off the bark from one end of the stick, revealing the inner fibers. Chew on these exposed fibers to create a brush-like texture. Hold the stick at a 45-degree angle to your teeth and brush in a circular motion. Afterward, rinse your mouth with water and store the stick in the provided holder or a clean location. Typically, replace it every 3-4 days or when the bristles become worn.
Upgrade your oral care routine with Sewak Al-Falah and experience the power of natural teeth cleaning for a healthier, brighter smile.
Share
View full details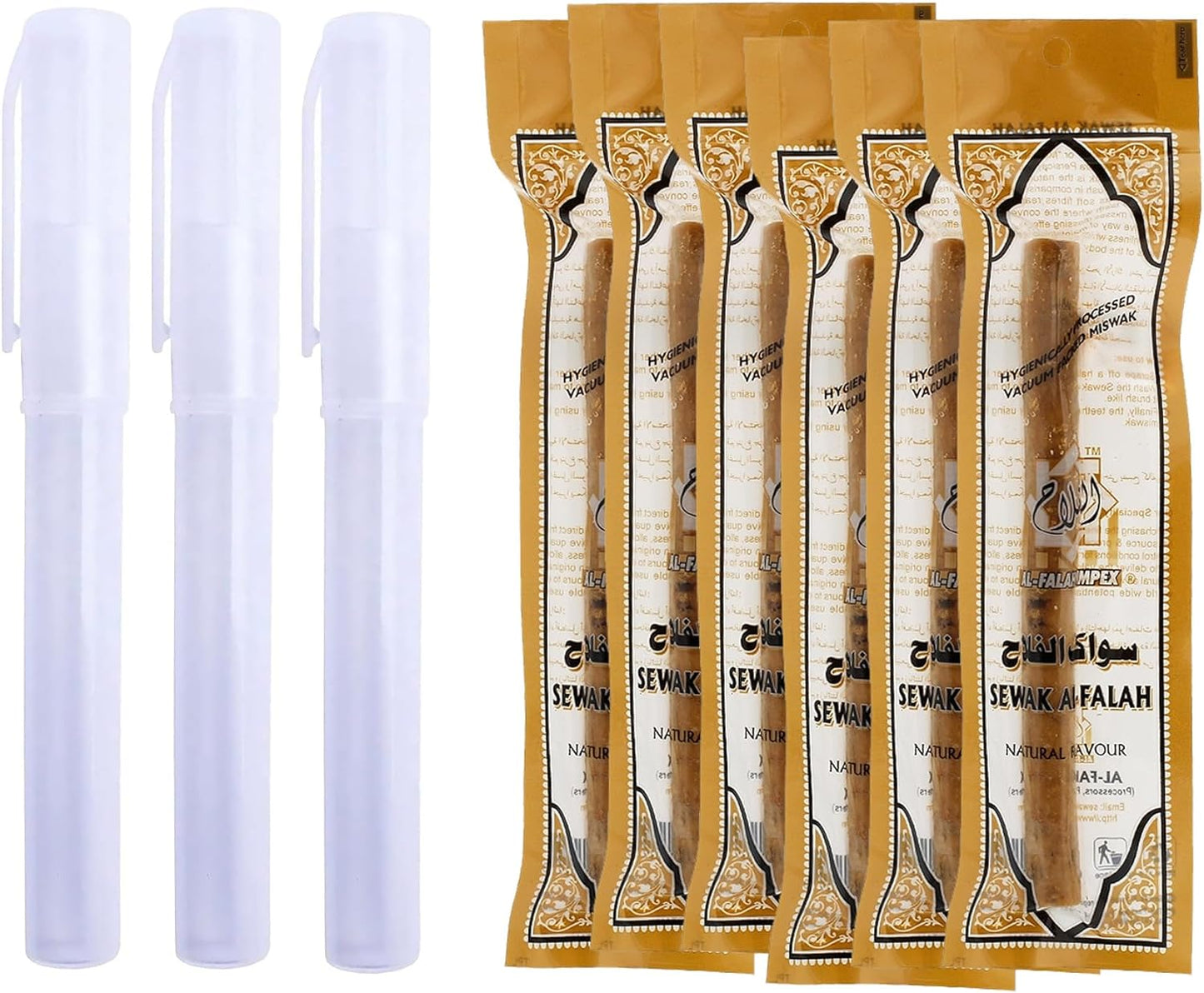 Shipping [Free Shipping for Orders over $50 - USA]

Exchange/Return Policy + Refunds

If you don't have a PayPal account, you can still use Paypal.