Regular price
Sale price
$20.60 USD
Unit price
per
Sale
Sold out
Brand: Stardrops
Item Form: Paste
Scent: The Pink Stuff - The Miracle
Specific Uses For Product: Sinks,Furniture,Glass
Material Feature: Toilet cleaner

WORKS LIKE A MIRACLE ! -The Pink Stuff paste made cleaning easier like never before, While saving you time, space & money Lasts way longer than any other liquid detergent
GREAT FOR ALL SURFACES -Remove stains,Grease or grime from just about anything, Stoves, Kitchen Floors,metal, ceramics, porcelain, marble, wood, silverware, jewelry, glass shower doors, fiberglass doors, glass stove tops, countertops,toilet, sinks, bathtub, car wheels, stainless steel,
NO SCRATCHES -Stardrops Paste wont leave any scratches or any streak. Works Instantly -removes stains from Rust, Pen, Marker, Crayons, Paint, Permanent Marker
Sparkling streak free shine

The Pink Stuff Miracle Cleaners
Explore Our Full Range of Cleaners and Laundry Care Products
The Pink Stuff Miracle Cleaning Range by Stardrops is a range of household and laundry cleaning products designed to bring back the fun and satisfaction to daily chores. We design products that evoke an outstanding cleaning experience every time.
Versatile and Effective Cleaning Solutions for Your Whole Home
The Pink Stuff Miracle Cleaning Paste is a mild-abrasive, multi-purpose paste cleaner that works instantly on all kinds of tough and dirty surface stains. Millions of people have been turning to this versatile cleaning paste for all sorts of household cleaning needs, trusting its power to make indoor and outdoor areas extra shiny, sparkly, and squeaky clean. Saving you time, space, and money, this budget-friendly, world-famous vegan product made with natural cruelty-free ingredients lasts way longer than any other cleaning agent and has a fresh and fruity scent you and your whole family will love.
It works miraculously and is easy to use - simply put a small amount of the miracle cleaning paste on a damp cloth or your chosen cleaning scrub, rub the problem area gently, and wash away with clean hot water!
The Miracle Multi-Purpose Cleaner is a versatile multi-spray cleaner made for all kinds of hard surfaces at home. Whether you need to clean indoors or outdoors, this natural cruelty-free vegan cleaning spray removes stubborn dirt, grease, and grime with ease! Well-loved by millions, it's a must-have in any kind of household. Safe yet tough on stains, it's formulated with a fresh and fruity Rhubarb scent the whole family will absolutely love. This easy-to-use spray can be used on virtually everything, including counters, cookers, floors, ceramic, tile, pots and pans, grills, sinks, boats, scuff marks, windows, and so much more!
It can even penetrate and tackle grease like a champ without leaving any gross residue behind, which is what many multi-purpose cleaners tend to fail to do. This 100% natural cleaner is the perfect partner to spruce up your home and keep it extra clean, shiny, and sparkly without damaging surfaces.
The Pink Stuff Miracle Bathroom Foam Cleaner will make your bathroom sparkle and smell oh-so-good. This non-drip foam cleaner doesn't only smell fresh and fruity with its amazing Rhubarb scent, but it's also made with natural, vegan, and cruelty-free ingredients that are a perfect addition to your cleaning supplies! Safe, easy to use, and family-friendly, this hardworking bathroom cleaner removes dirt, grease, soap, and grime from surfaces, leaving them shiny, sparkly, and squeaky clean. In addition to its great smell and incredible cleaning properties, it also removes and prevents limescale, leaving your home pristine, tidy, and fresh. The Miracle Bathroom Foam Cleaner
Our versatile bathroom non drip foam cleaner, clings to surfaces, penetrates and removes dirt, grease and grime, removes and prevents limescale, leaving shiny clean results.
The Pink Stuff Miracle Cream Cleaner is a versatile and effective liquid cream cleaner for virtually all kinds of hard surfaces at home. A staple product in your stash of household cleaning products, this mild-abrasive cleaner is perfect for both your indoor and outdoor cleaning needs. From grills, floors, walls, doors, ceramic, tiles, pots and pans, showers, to sinks, this amazing cleaner leaves all kinds of surfaces clean, shiny, and good as new!
Tough on stains yet gentle on surfaces, it's designed to handle some of the most stubborn stains and substances that other cleaners cannot, such as grease, grime, and hard water stains. Not only is it formulated with 100% natural ingredients, this vegan-friendly and cruelty-free cream cleaner is also known for its pleasant Rhubarb scent, leaving your home smelling fresh, inviting, and satisfyingly clean.
Stains hate us people love us
Millions of people have been trusting The Pink Stuff since 1938! Tough on stains and dirt yet gentle on surfaces, THE PINK STUFF is the right stuff for all your indoor and outdoor household cleaning needs.
All-purpose cleaning made fun and easy
Not only will THE PINK STUFF make your home fresh and tidy with its hardworking cleaning properties, but it will also make cleaning fun again with its delightful Rhubarb scent!
Tough on Dirt and safe to use
THE PINK STUFF is designed with a tried-and-tested formula that is safe to use and cruelty free.
Share
View full details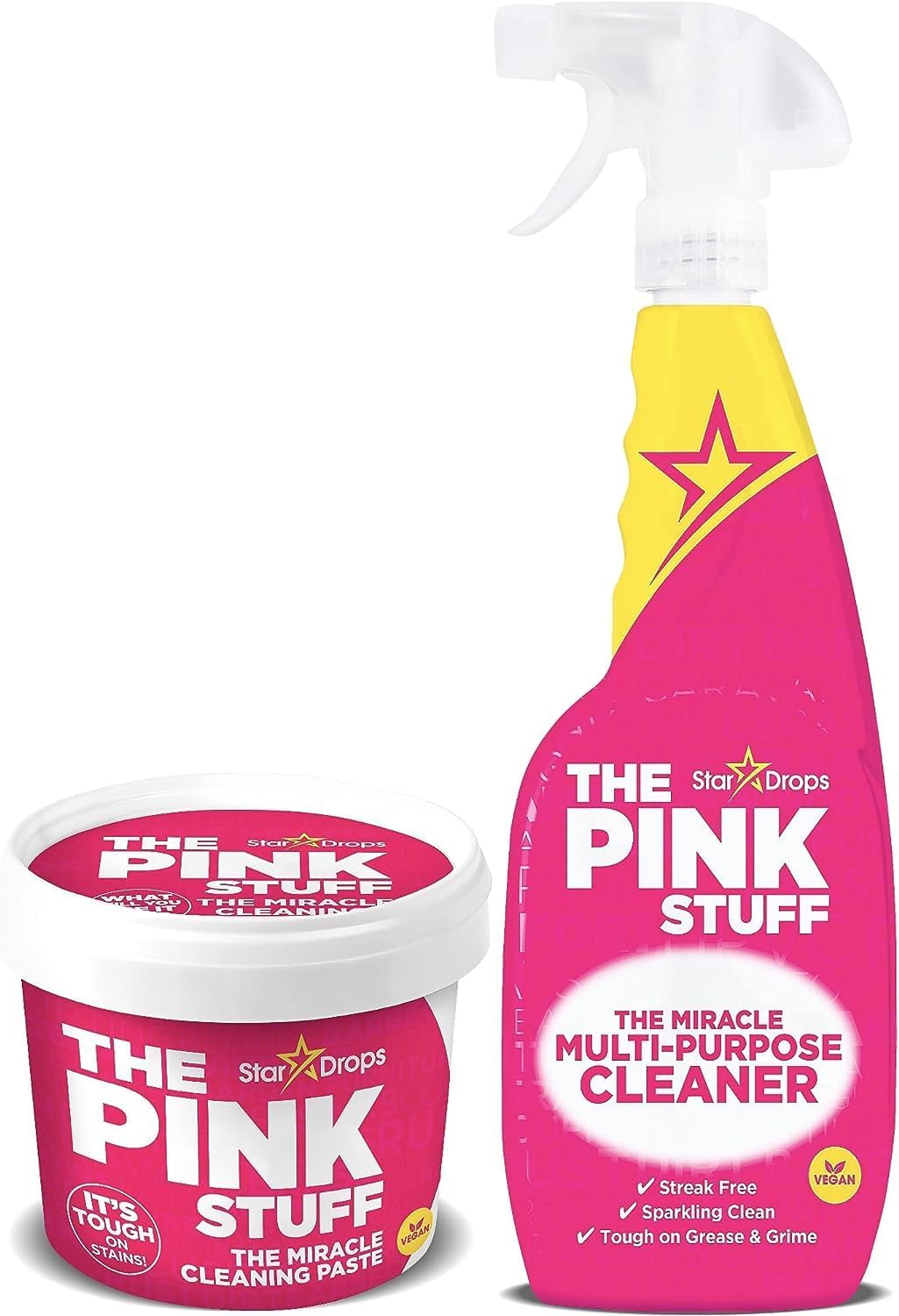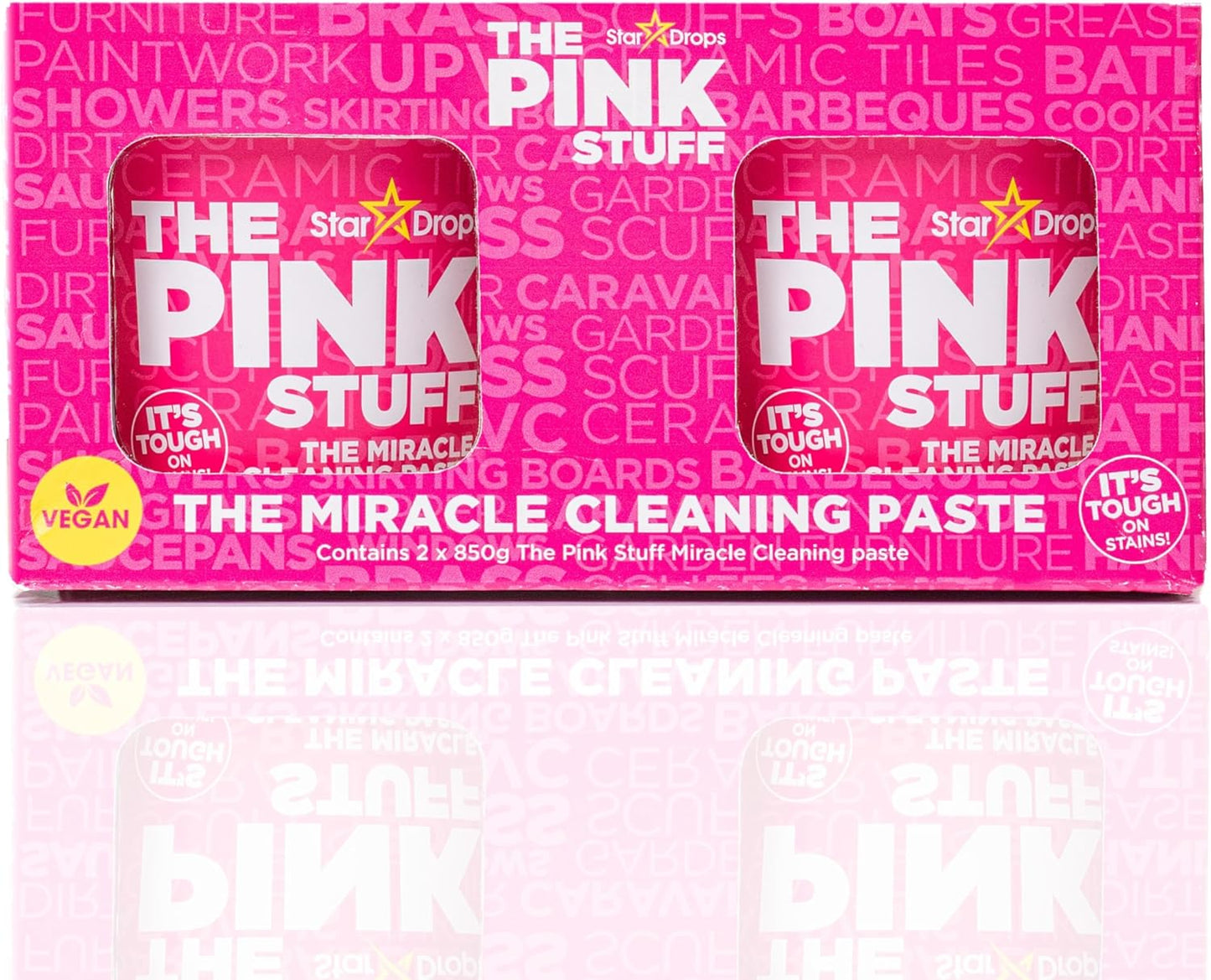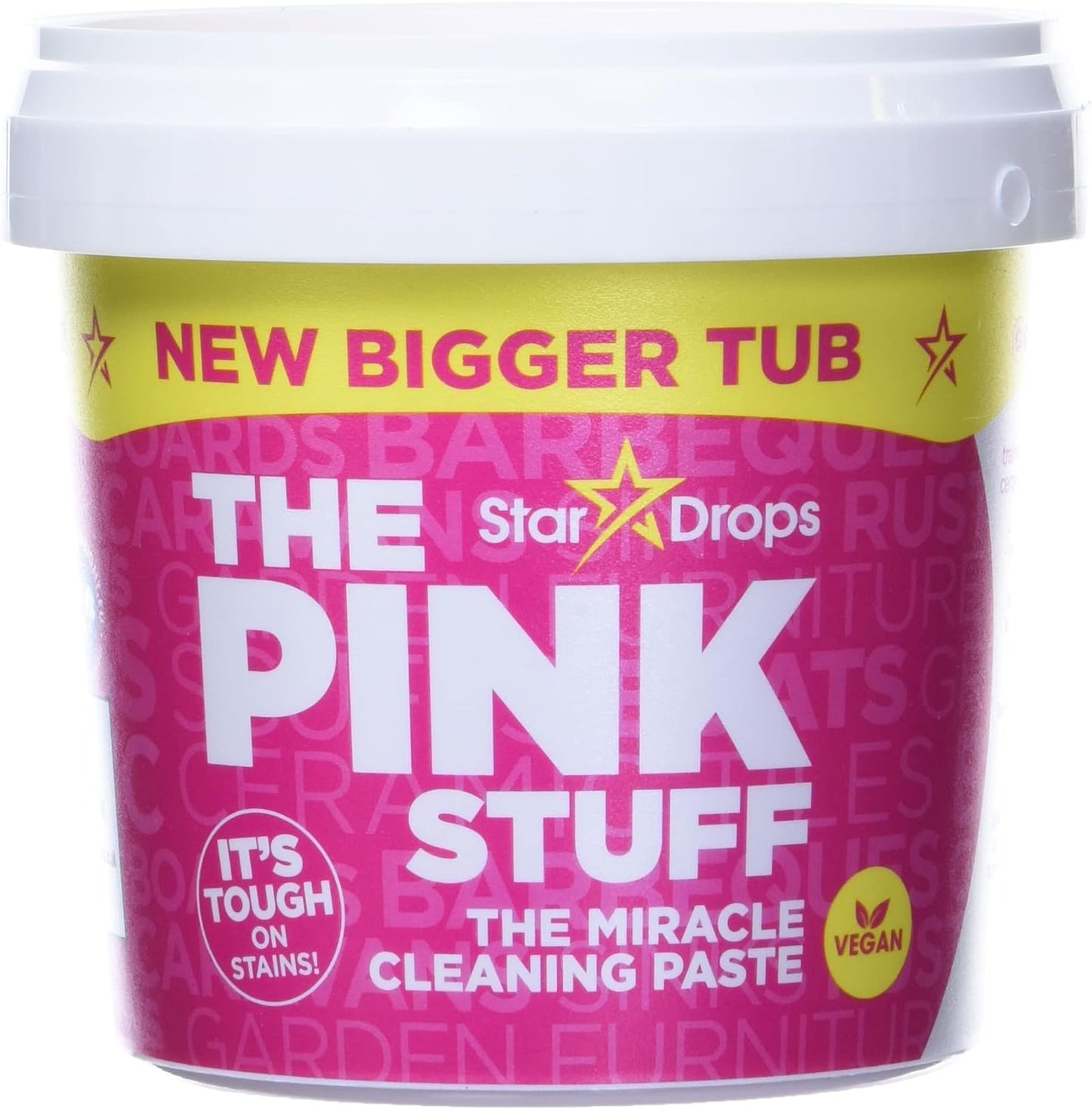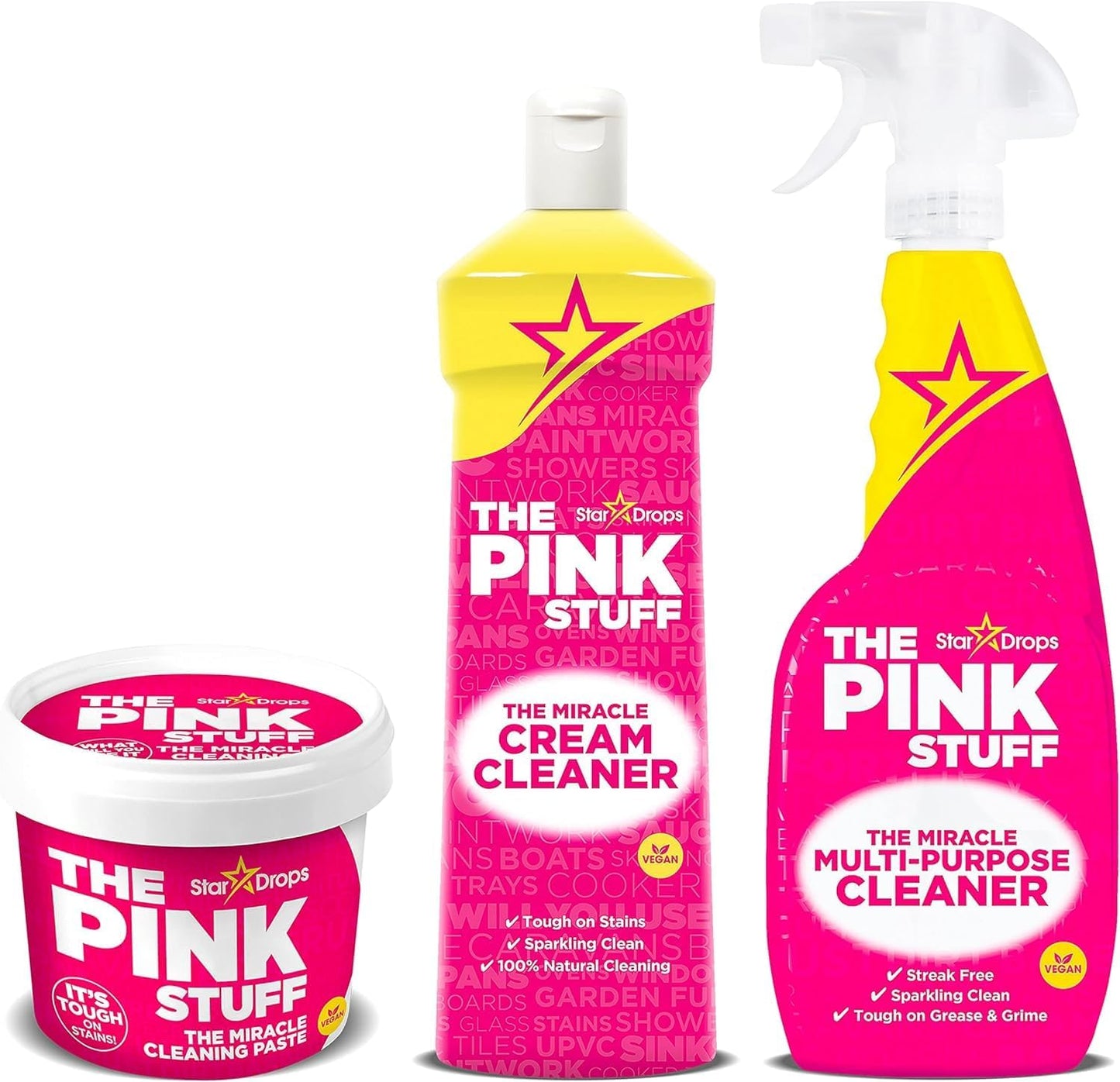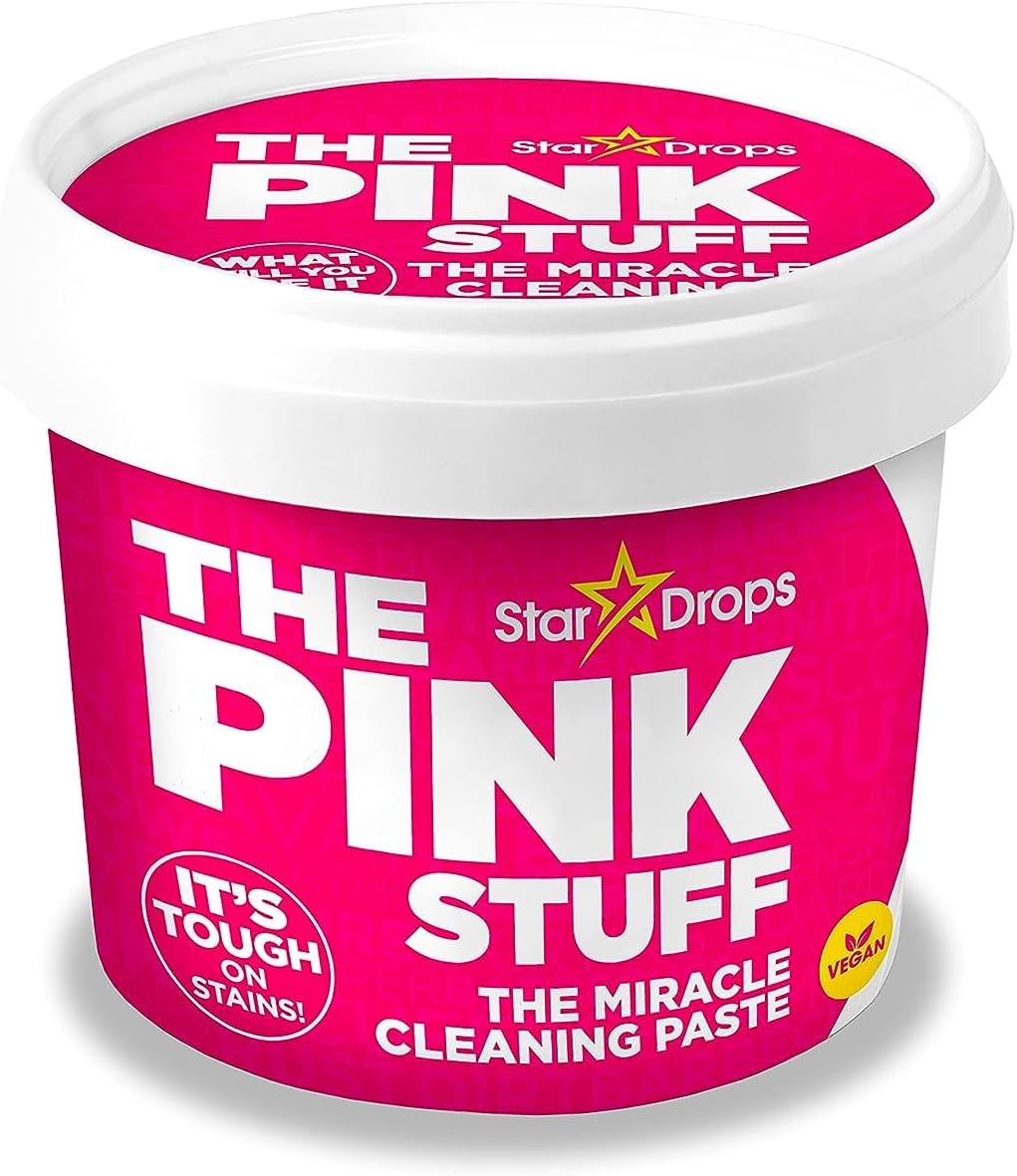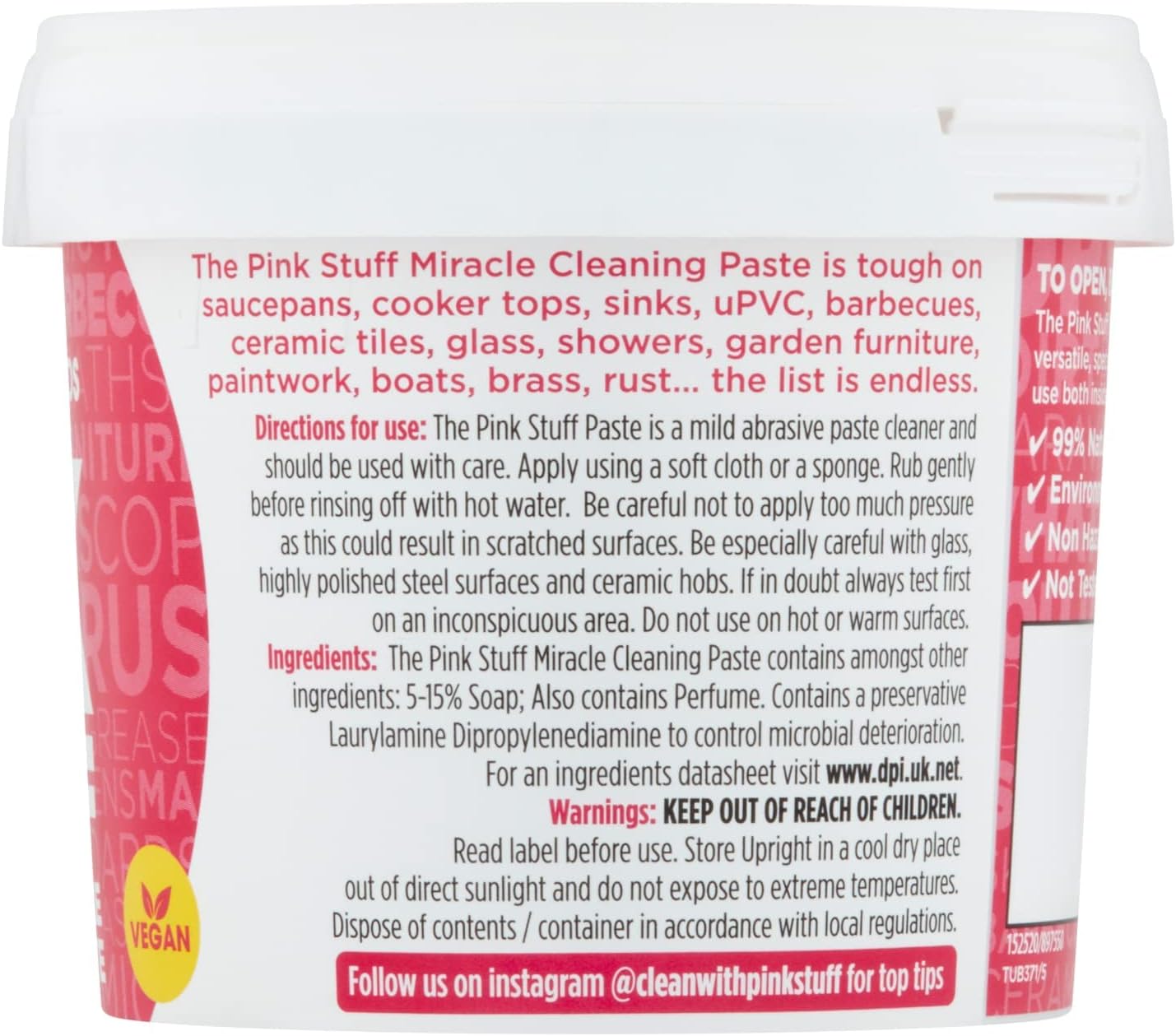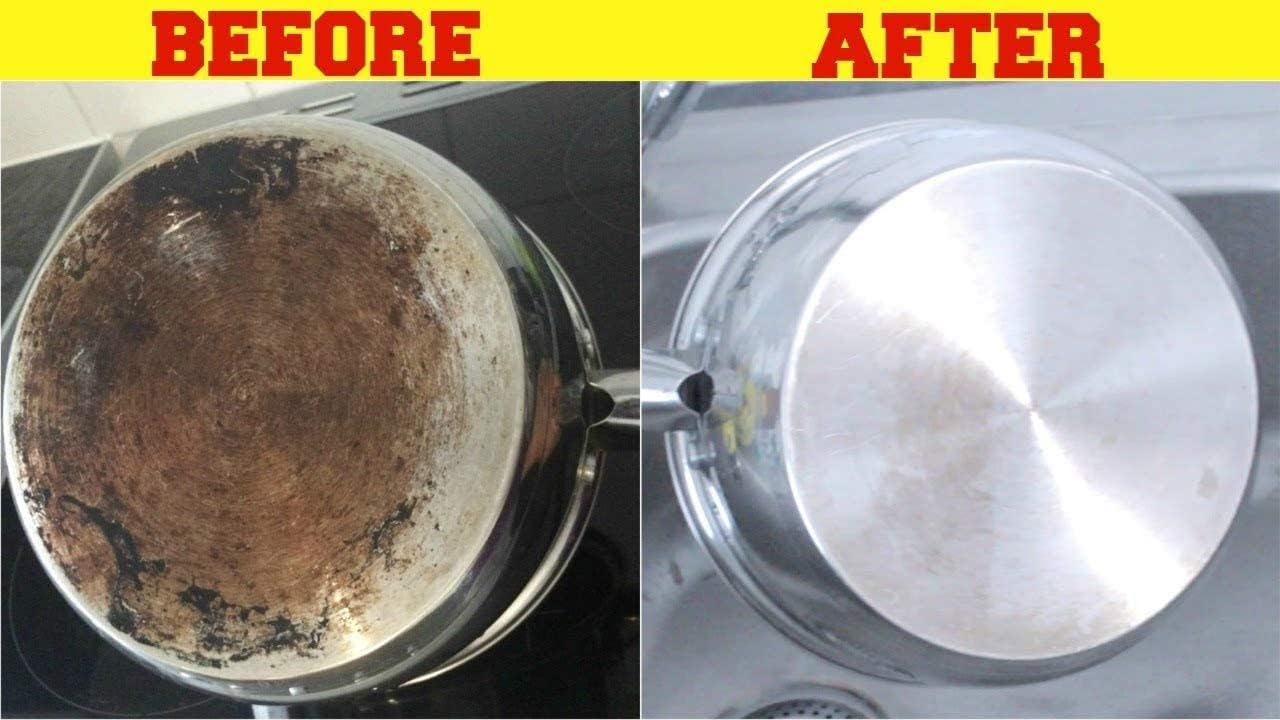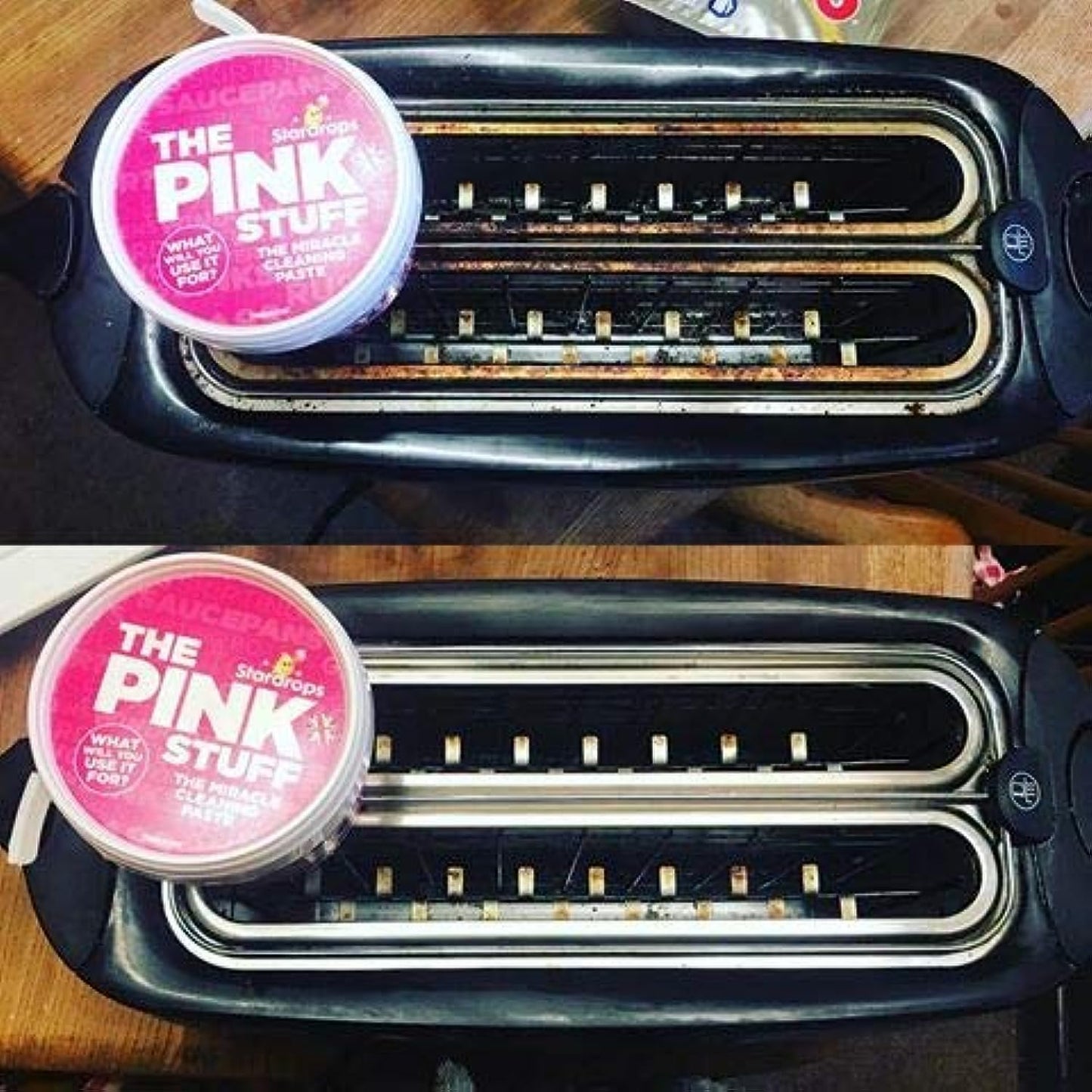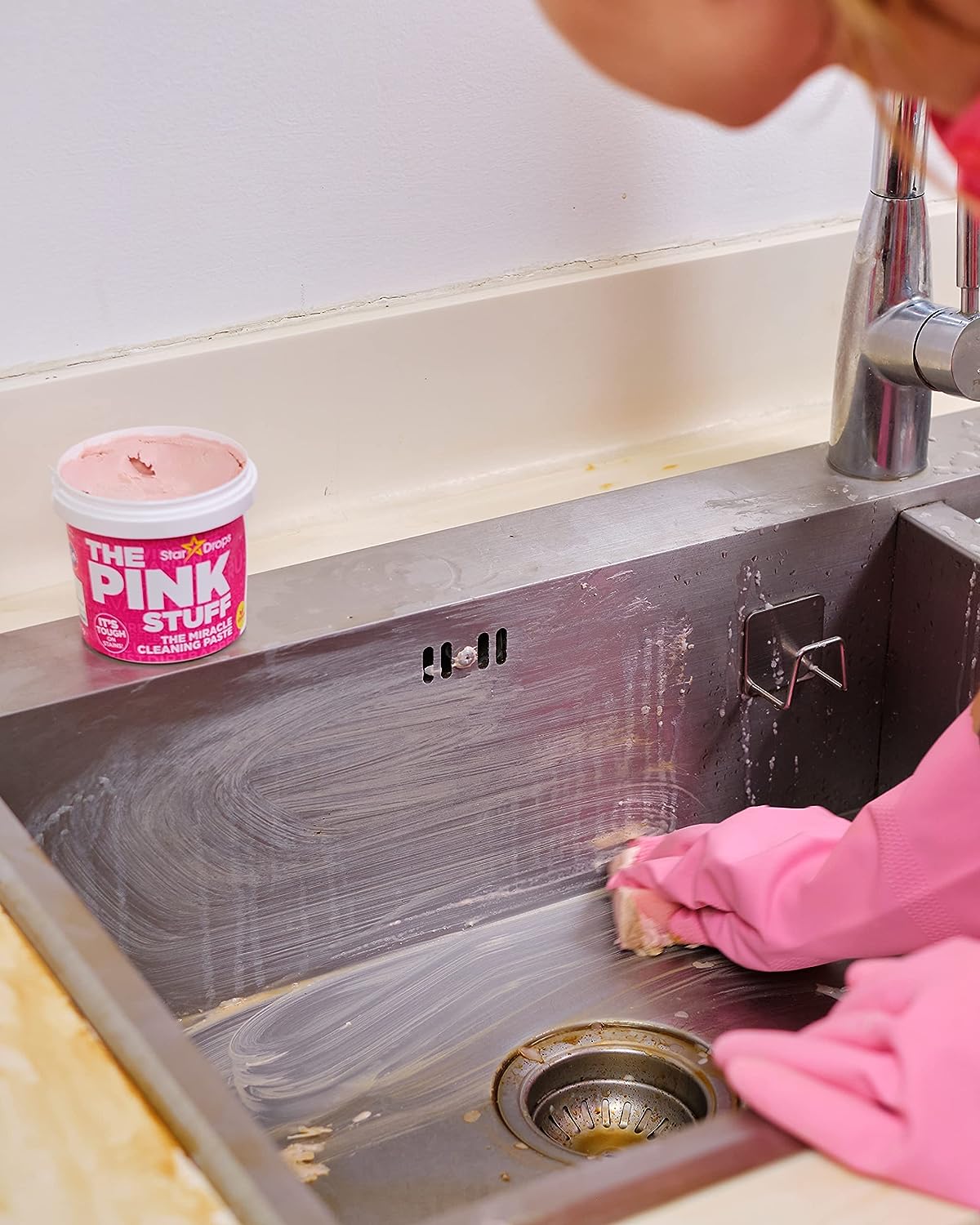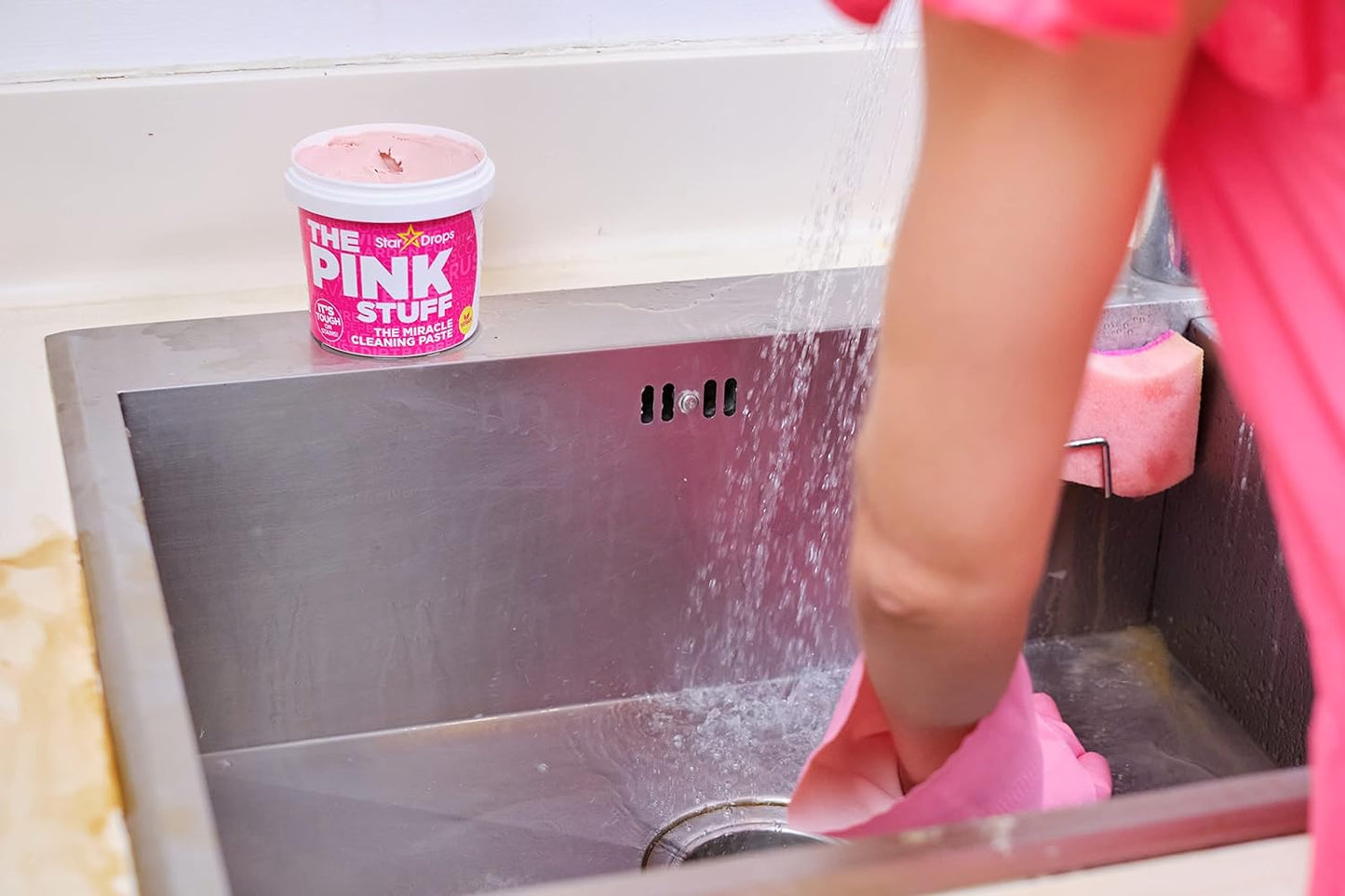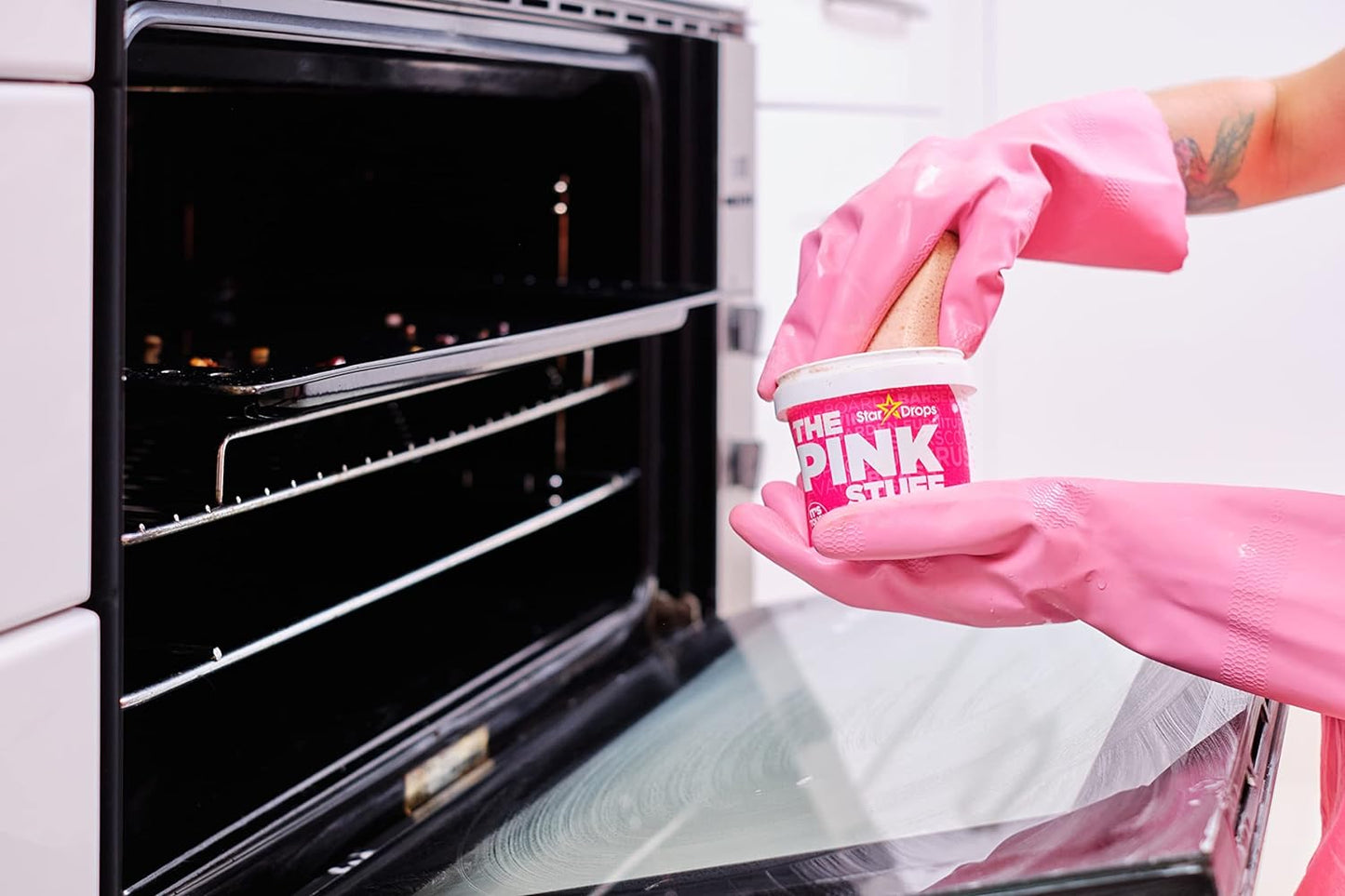 Shipping [Free Shipping for Orders over $50 - USA]

Exchange/Return Policy + Refunds

If you don't have a PayPal account, you can still use Paypal.